Gang jailed after trafficking Latvian woman to Manchester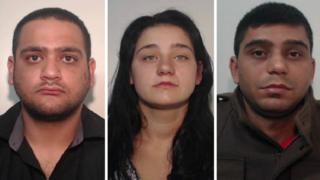 A gang that trafficked a Latvian woman to the UK and kept her prisoner in Manchester has been jailed.
The 36-year-old woman was forced into a sham marriage to a man who wanted to avoid deportation.
She was imprisoned at a house in Longsight for almost 14 months with locks and metal grates on the windows.
Hanan Butt, 27, Jekaterina Ostrovska, 24, and Aqib Latif, 33, pleaded guilty to human trafficking for exploitation at Manchester Crown Court.
Butt was sentenced to two years and eight months and Ostrovska and Latif were given two years and six months each.
'Horrific ordeal'
Another man, Mohammed Chonan also pleaded guilty to human trafficking and will be sentenced on 20 November.
The court heard the victim was tricked into believing she would be given a job on a mushroom farm when she arrived in the UK in July 2013.
Instead she was taken to Butt and Ostrovska's home in Slough and then, by Chonan, on to Birmingham.
Here, she was introduced to Mohammed Akmal, whom she later married in a faked Islamic ceremony, witnessed by Rashid Ahmed.
The woman was moved to two addresses in Longsight- in one she was locked in a small attic bedroom while Akmal's family lived in the main house.
The second house had metal grates over the windows and she could not use the telephone or leave the house without being supervised.
But as none of the gang spoke Latvian they did not know what was being said.
Her ordeal ended after she managed to tear off a partial address from a piece of mail and rang her mother who then informed Interpol.
Akmal, 32 and Ahmed, 50, of Meade Grove, Longsight, were found guilty of conspiracy to seek to remain leave in the UK by deception.
Akmal was jailed for one year and eight months and Ahmed was sentenced to nine months.
Det Sgt John Robb from Greater Manchester Police said the woman had endured a "horrific ordeal" and been treated "like a commodity".
She had shown tremendous courage, he added.