Trafford council cuts 'attack on vulnerable', say Labour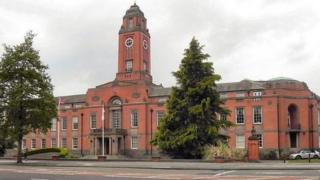 Opposition councillors in Trafford claim planned budget cuts are a "shocking attack on vulnerable people".
The authority is reviewing every care package it provides as it attempts to save £4m from its social care budget.
It said it was "reshaping care" to ensure those in need received the right support. Affected families are to stage a protest later.
Labour's Andrew Western said the most vulnerable people in the borough would be "enormously impacted".
Since 2010, Trafford council has reduced its budget by £96m. Over the next two years it faces further reductions of about £33m.
A total of £12m must be cut from budgets in Trafford in the next financial year, the council said.
'Value for money'
The Conservative-led authority provides about 3,500 care packages and each will be reassessed in order to ensure they meet the criteria.
Trafford council leader Sean Anstee said: "This is £4m savings out of a £90m care budget. We are not changing the eligibility criteria, those people who need care will continue to receive it.
"We have an obligation to make sure that we are providing good levels of care for people but that we are not providing care that is no longer needed.. and we get the best value for money for tax payers."
He said it was a false assumption the review would definitely result in taking care away from people.
But Councillor Western said: "The emotional wellbeing of these people is going to be so adversely impacted by this...I think this is a shocking attack on vulnerable people."
Criteria confusion
Free school transport was removed from many teenagers with learning difficulties who attend the sixth form at Brentwood in Timperley, as part of earlier budget cuts which came into force in May.
Parent Sally Wheatman has organised a town hall protest later and said the system seemed to target individuals.
"We have children that ostensibly have very similar problems- one might have been given transport, one might not have been.
"We don't understand what the criteria is. We can't find anybody who will tell us what that is and it seems to be a cost cutting exercise."
The council said some teenagers no longer qualified for help with transport because there was no statutory responsibility to provide to those over 16.
Trafford council is the only metropolitan borough in the North of England to be held by the Conservative party.
The council's budget consultation runs until 18 December.