Sammy Lee and Phil Gartside cleared over £1m McCann transfer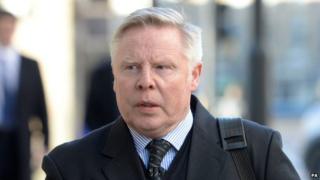 Senior football figures including ex-Liverpool and England coach Sammy Lee have been cleared of all charges stemming from a transfer deal dispute.
Agent Tony McGill, from Sunderland, claimed he was cut out of a 2007 £1m deal which saw Gavin McCann move from Aston Villa to Bolton Wanderers.
No evidence was offered against Bolton, its chairman Phil Gartside, Mr Lee, Mr McCann and several others.
As a technicality, "not guilty" pleas were entered at Newcastle Crown Court.
The agent started a private prosecution against the parties following a legal battle over his claims he was cut out of McCann's transfer.
The Crown Prosecution Service later took over the case.
At the hearing, Judge Tim Gittins told the defendants: "That brings the matter to an end."
The issue of costs for all sides has yet to be decided.
Those cleared are:
Bolton Wanderers chairman Phil Gartside, 62, from Northwich, Cheshire, who faced five counts of perjury and one of fraud by false representation
Southampton and ex-England coach Sammy Lee, from Liverpool, who faced four counts of perjury
Bolton Wanderers Football Club secretary Simon Marland, 55, from Chorley, Lancashire, who faced five counts of perjury and one of false representation
Brentford director of football Frank McParland, 55, from Warrington, who faced four counts of perjury
Former footballer Gavin McCann, from Lytham, Lancashire, who faced four counts of perjury and one of fraud by false representation
Football agent Jerome Anderson, 56, from London, who faced four counts of perjury and one of fraud by false representation
Lawyer Chris Farnell, 45, from Hale, Greater Manchester, who faced two counts of perjury
Agent Stephen Horner, 49, from Brindle, Lancashire, who faced two counts of perjury
Agent David Sheron, 62, from Rossett, North Wales, who faced four counts of perjury
Agent Jeffrey Weston, 61, from Mill Hill, London, who faced five counts of perjury and one of fraud by false representation