Teen seriously hurt in anti-Semitic attack at Manchester tram stop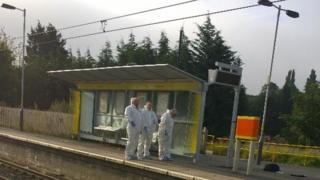 A Jewish teenager has been seriously injured after an anti-Semitic attack at a tram stop in North Manchester, said police.
Two men, 18, and a 20-year-old were also hurt at the Bowker Vale Metrolink station on Saturday at about 23:40 BST.
The young Jewish men were waiting for a tram when three men verbally and physically assaulted them.
The attack, which left the 17-year-old with a head injury, was being treated as a hate crime, police confirmed.
The tram stop was closed for investigations to take place. It has now reopened.
Det Insp Liam Boden, of Greater Manchester Police, said: "I know this will cause upset and anxiety in the Jewish community and I want to offer reassurance that we have launched an investigation to find the people that did this.
"This attack is being treated as a hate crime and I want to send the message that hate crime will not be tolerated and we will do everything we can to stamp it out."
Metrolink services between Manchester and Bury were partially restricted but all are now running.
Anyone with any information is asked to contact police or Crimestoppers.