Chetham's ex-teacher Chris Ling 'shot himself' in US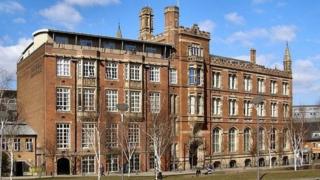 A former music teacher who faced sex abuse allegations apparently shot himself dead after police arrived at his home in the US to arrest him.
Chris Ling, 58, was among a number of suspects in an inquiry concerning Chetham's School of Music in Manchester.
Mr Ling had moved to the US in the 1990s and ran a talent agency.
Greater Manchester Police (GMP) said the force had intended to charge Mr Ling with 77 offences.
A Los Angeles Police spokesman said they had begun a death investigation into "an apparent suicide".
A US Marshals Office spokeswoman said a team of marshals went to arrest Mr Ling, early on Tuesday but "he shot himself" before they could do so.
She said the officers arriving at his Los Angeles home had a provisional arrest warrant and confirmed it was likely he would have been extradited back to the UK.
Historical allegations
The allegations were part of the wide-ranging Operation Kiso inquiry, which is also investigating reported abuse at the Royal Northern College of Music (RNCM) in Manchester.
It had been reported 10 women said Mr Ling abused them in the 1980s while he was a freelance violin teacher at Chetham's.
GMP said last year it was considering extradition proceedings after a file had been submitted to the Crown Prosecution Service.
The force said Mr Ling had "failed to return" to the UK to answer questions.
Claims against a number of individuals followed the imprisonment of former Chetham's music director Michael Brewer and his ex-wife Hilary, in March 2013, after they were convicted of indecently assaulting ex-pupil Frances Andrade more than 30 years ago.
Mrs Andrade killed herself at her Surrey home a week after giving evidence.
In 2014, former conductor Nicholas Smith admitted sexually assaulting a 15-year-old Chetham's pupil in the 1970s.
Last November, double bass teacher Duncan McTier, who taught at various institutions including RNCM, also pleaded guilty to sexual assaults against three ex-pupils.
Senior investigating officer Jamie Daniels, of GMP, said: "For over two years we have been working on what has been an extremely complex and sensitive investigation into Christopher Ling.
"I'd like to pay tribute to the victims. They have shown tremendous courage by coming forward and embarking on what has been an emotional and arduous journey.
"There has of course, been an expression of frustration and disappointment at this news by those affected, as they will not get their chance to see justice done, but we will continue to offer them support at what is understandably, a very difficult time."