Manchester taxi drivers given crime advice booklets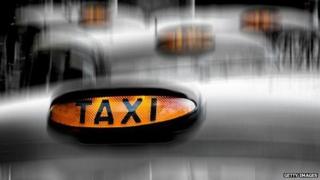 Manchester's 6,000 taxi drivers are being given a booklet to help them spot signs of criminal activity, including child sexual exploitation.
Manchester City Council said drivers are the community's "eyes and ears" and require support to help them report crimes.
The council created the booklet along with Greater Manchester Police and organisations representing drivers.
It gives examples of suspicious behaviour to look out for.
---
Criminal activity covered in the booklet includes:
Child sexual exploitation
Human trafficking
Female genital mutilation
Domestic abuse
Hate crime
Suspicious packages
Terrorism
Source: Manchester City Council
---
Nigel Murphy, from the council, said: "Taxi drivers in the past have been the eyes and ears. All we are doing is trying to make it easier for the cab drivers to report things."
"Child sex exploitation and domestic violence happens behind closed doors and sometimes, when those doors are slightly opened, we have to be able to look in and be able to feed that information back."
The handbooks, which will also include a section on taxi driver safety, will be available to download on the council website and will be in licence renewal packs.
Steven Giles, from the Old Trafford-based charity Community Change Foundation, said: "I think it is a bit unfair on them - they are taxi drivers, that is their job.
"They are not mentors, they're not social workers, they're not youth workers, and it is a very difficult job to do. To me it is like asking a baker to fix your car."
He added: "Raising that awareness is always a positive thing, but this smacks a little bit as a publicity stunt, taking away from the reality that services are being cut."