Manchester A&E unit shut over suspected Mers outbreak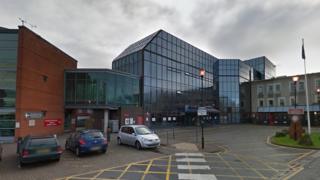 A suspected outbreak of Middle East Respiratory Syndrome temporarily shut a hospital's A&E unit in Manchester.
Two patients were tested for the condition which led to the closure of the emergency department at the Royal Infirmary, the hospital said.
A spokesman said the patients had been isolated for treatment and there was "no significant risk to public health".
Test results are being awaited but the NHS Trust involved confirmed the A&E department had since reopened.
A hospital spokesman said: "Both patients have been isolated for ongoing clinical treatment and management of their condition.
"One patient has now been relocated to North Manchester General."
The first Middle East Respiratory Syndrome (Mers) fatality was recorded in June 2012 in Saudi Arabia.
Mers is passed to people in close contact and is similar to the Sars virus.
Symptoms of Mers include coughing and fever
It can lead to fatal pneumonia and kidney failure
Most people infected have been older men with other medical conditions
It is not known for certain how it is spread, but it is possible it is passed in droplets when an infected person coughs or sneezes
Experts believe the virus is not very contagious
BBC health correspondent Dominic Hughes said it was a "big step for a hospital to close an A&E" but the move would be part of its "standard infection control procedures".
He said: "Although it doesn't transfer from person to person easily it is healthcare workers who are at the greatest risk of infection."
'Low risk'
He said Mers has been spotted in 26 countries, including in the UK in 2013, where it was detected on four occasions, resulting in three deaths.
Patients who would usually travel to the Manchester Royal Infirmary were diverted to hospitals in South Manchester and Salford and the North Manchester General Hospital. The Manchester Royal said its children's A&E department remained open throughout.
---
Analysis by James Gallagher, health editor, BBC News
Mers is certainly a deadly and dangerous virus.
An outbreak in South Korea affected 186 people and led to 36 deaths. Out of the four cases seen in the UK, three died.
However, lift your finger off the panic button.
Firstly, suspected cases are relatively common. Since the last confirmed case in the UK more than two years ago, 314 people have been tested for suspected Mers and all were negative.
The virus struggles to spread from person to person. It needs very close contact and the primary threat is to family members and hospital staff, not the general public.
---
Dr Rosemary McCann, North West deputy director for Public Health England, said the risk of contracting the infection in the UK "remains very low".
"We are aware of two individuals being tested for Middle East Respiratory Syndrome (Mers-CoV) in Manchester," she said.
"Although cases continue to be reported from the Middle East, no new cases of Mers-CoV have been detected in the UK since February 2013."
She said the risk to residents travelling to Middle Eastern countries may be "slightly higher" than within the UK, but was still very low.