Bosley mill explosion: Second body recovered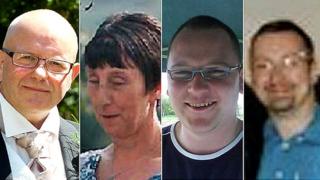 A second body has been found in the search for workers missing since a fire at a wood flour mill in Cheshire.
Four workers were trapped in Friday's explosion and blaze in which temperatures reached 1,000C and caused the collapse of a four-storey building.
The remains were found on Tuesday at Wood Flour Mills in Bosley, near Macclesfield, six metres below the first body that was found on Sunday.
It is an "extremely complex scene" and the search continues, said police.
The families of Derek Moore, 62, Dorothy Bailey, 62, Jason Shingler, 38, and William Barks, 51, have been informed and continue to be updated and supported by police officers.
Chief fire officer Paul Hancock said search teams were "stabilising the environment" in the collapsed structure "to maintain their own safety".
"But it is very challenging within those collapsed areas - lots of voids, lots of pockets are still burning and the more we excavate, the more we will be able to find and establish the other two individuals who are still sadly missing."
He added 80 emergency services workers were still working on site.
The discovered bodies are yet to be identified.
A woman is in hospital with serious but not life-threatening injuries.
Two men remain in hospital in a stable condition, and another man who suffered minor injuries has been discharged.
In a statement, the site owner - Wood Treatment Ltd - said it was "shocked and saddened" by the blast in Bosley.
The police are conducting a joint investigation with the fire service and Health and Safety Executive.
---
Missing people
Dorothy Bailey - The 62-year-old grandmother, who only began working at the factory a short time ago, has three sons, five brothers and a sister
Jason Shingler - The 38-year-old, from North Rode, lives with his girlfriend Nicky and is described as a "kind-hearted" son and brother
William Barks - The 51-year-old father from Leek, who has been married for 31 years, has a brother and sister and enjoys building motorbikes
Derek Moore - The 62-year-old, from Stoke-on-Trent, is married with a stepson, and has two sisters and a brother
---
Assistant Chief Constable Guy Hindle said: "We continue to work with our colleagues in very difficult conditions with ongoing risks and the need to preserve the scene for investigation... and we've not yet got full access to it.
"We are making a number of enquiries, but we have to bear in mind that we can't compromise the rescue operation.
"We are interviewing witnesses and gathering other evidence, all of which will form the investigation."
The site was also struck by fires in 2010 and 2012.
Wood is processed at the plant into a fine powder and the resulting "wood flour", with a consistency like sand, is used to make laminate flooring.