Giant hogweed 'UK's most dangerous plant', say rivers trust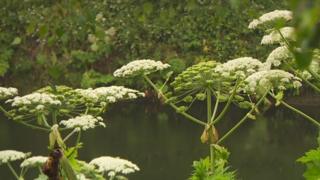 A rivers expert has called a harmful weed "the most dangerous plant in Britain" after two children were left needing hospital treatment.
Mike Duddy, of the Mersey Basin Rivers Trust, said giant hogweed was a "massive issue" which needed tackling.
Toxic sap from the weed, which grows near canals and rivers, can increase the sensitivity of the skin to sunlight, often leading to burns.
Two boys were hurt after they touched the plant at a country park in Bolton.
He said: "If you don't know what the plant is, it's exceedingly dangerous. It is now, without a shadow of a doubt, the most dangerous plant in Britain.
"There were originally a few hotspots of plants, but it has now spread to Bury, Bolton, Chinley, Stockport on the River Mersey - different parts of the canal system."
Mersey Basin Rivers Trust said the plant can be controlled with a herbicide, but due to a lack of a "multi-agency strategy" for dealing with it the problem was getting worse.
After contact with the plant, the burns can last for several months and the skin can remain sensitive to light for many years.
The NHS says anyone who touches giant hogweed should wash the affected area with soap and water, and keep it covered.
---
What is giant hogweed?
Large weed with white umbrella-shaped flower head now widespread along river banks and canal towpaths
Can grow about 13ft (4m) high and has leaves up to 5ft (1.5m) wide
Poisonous sap from stem hairs can cause severe blistering which can take months to heal
Resembles cow parsley but has reddish-purple stem with fine spines and spotted leaf stalks
Can produce up to 50,000 seeds per year
No legal obligation in the UK to remove or control the plants
Source: Mersey Basin Rivers Trust
---