Stepping Hill hospital deaths: Nurse Victorino Chua launches appeal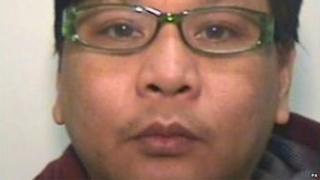 A nurse found guilty of murdering two patients at the hospital where he worked has launched an appeal against his convictions.
Victorino Chua, 49, was convicted of poisoning patients at Stepping Hill Hospital, Stockport, and jailed for a minimum of 35 years in May.
Chua killed Tracey Arden, 44, and Derek Weaver, 83, by injecting insulin into saline bags and ampoules, a jury ruled.
His legal team CM Solicitors said he "maintained his innocence".
Chua was jailed for life for the offences committed in June and July 2011.
Chua was cleared of murdering 71-year-old Arnold Lancaster but convicted of poisoning him.
In all, Chua was convicted of two murders, 22 counts of attempted grievous bodily harm, one count of grievous bodily harm, seven attempts of administering poison and one count of administering poison.
He received 25 life sentences in total.