University of Bolton sackings: Rally for dismissed workers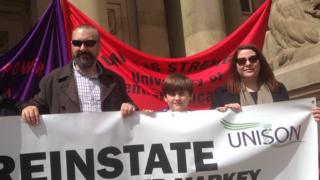 Some 250 people have marched in protest against the sacking of two workers by the University of Bolton.
Damien Markey and his wife Jenny were dismissed in March following press stories of the institute's finances.
Times Higher Education said the couple were not the source of its report about an alleged £100,000 staff away day in the Lake District.
A university spokesperson said there was "misinformation" on their removal, adding it was for "gross misconduct".
Newspapers also reported the university offered a £960,000 loan to its vice chancellor George Holmes so he could buy a home when he moved from West Yorkshire to Bolton.
But the University and College Union (UCU) said details of the loan were already available on the university's own website.
Shameless actress 'support'
Mr Markey, who was the Bolton branch secretary for UCU, taught special and visual effects, while his wife was an academic administrator in the university's health and community studies department.
In a statement, the university said it had rejected their appeal against the sacking "after careful consideration" but was unable to comment on the details due to confidentiality issues.
Mrs Markey's mother Joanne Hill said: "It's just victimisation and institutional bullying."
The case is set to be heard at an employment tribunal at a future date.
Bolton-born actress Maxine Peake, best known for appearing in TV dramas Silk and Shameless, said she "strongly supported" the campaign to reinstate the couple.