East Cheshire 'needs 36,000 homes by 2030'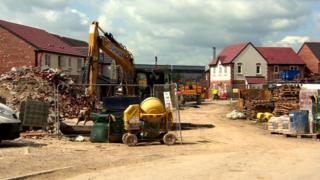 A total of 36,000 new homes need to be built across east Cheshire to meet demand, Cheshire East Council has said.
The authority has added 7,000 homes to its 29,000 housing need assessment after a government inspector found "serious shortcomings" in the total.
Sites have not yet been allocated for the new housing requirement, but the authority has identified Knutsford, Wilmslow and Poynton as likely areas.
Council leader Michael Jones said he cannot rule out using green belt land.
The Conservative leader Mr Jones said green belt was "sacrosanct" but admitted some of it could be allocated for building.
Cheshire East Council insists the figure has been revised upwards because the borough's economy is likely to grow more quickly than previously expected.
"Cheshire East is a victim of its own success. Unless we want to see our roads clogged by a huge increase in commuter journeys into the area, we need to provide more housing locally to accommodate the likely increase in the number of people working in the borough," said Mr Jones.
The council's evidence will be submitted to a government inspector in July, who will then hear the views of residents and developers.
Besieged
The authority has previously described itself as being "besieged" by housing developers, but says the increased housing allocation "will be achieved without any major impact on green belt".
But green belt land surrounding major settlements has been assessed to ascertain how appropriate it may be to release it for development. A report says 82 areas of green belt land have the "greatest potential" to be released for development because of their "lower contribution to green belt function".
Land will now be allocated for the new housing requirement, with the BBC understanding land in the north of the borough is more likely to be used, whilst areas in the south including Alsager, Sandbach and Nantwich are unlikely to be allocated.
Colin Muller, of Alsager-based Muller Property, insists the council's proposals don't go far enough.
"I believe there are about 40,000 houses that need to be provided for. That's certainly the evidence base that the majority of those that made representations on this would suggest."