PCC and Wigan Council leader announce interim mayor bids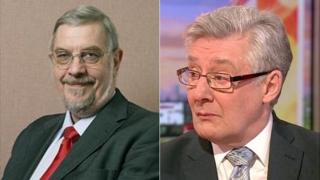 Greater Manchester's Police and Crime Commissioner (PCC) and the leader of Wigan Council have announced they will stand to be the region's interim mayor.
PCC Tony Lloyd called it a "challenge I am ready for", while Lord Peter Smith said he was "carrying on [his] work as normal" despite his application.
In November, Chancellor George Osborne announced plans for an elected mayor in charge of the region's devolved powers.
An interim mayor will take on the role in June until a 2017 mayoral election.
The deadline for names to be put forward as interim mayor closed on Wednesday.
The successful candidate will be chosen by the region's council leaders - Greater Manchester Combined Authority (GMCA) said this will happen in late May.
Mr Lloyd said: "We must ensure that we have a plan to grow the economy across all 10 boroughs and cities in Greater Manchester so that every community sees that devolution will make a real difference to their lives.
"We can only truly succeed when every community has a stake in the future, which is why devolution must not stop at Greater Manchester level. If successful, I will work to ensure that devolution continues from that level to the districts."
Lord Smith said he was standing for the role on his "record in local government" and his experience as chair of GMCA.
"The big agenda for us is about economic reform and changing public services," he added.
"I will not be holding press conferences on public premises and at public expense to promote my personal candidature."
Analysis: Kevin Fitzpatrick, BBC Radio Manchester's political reporter
Both men are extremely well qualified. Lord Smith has been in charge of Wigan Council for decades and is currently leader of the Greater Manchester Combined Authority.
Tony Lloyd, a former MP, has unique experience as the Police and Crime Commissioner.
Mr Lloyd knows if he can become interim mayor he'll be in pole position to be Labour's candidate in the eventual mayoral election.
If Lord Smith is appointed, it may pave the way for the leader of Manchester City Council, Sir Richard Leese, to step in as Labour's hope for mayor.
The mayor will oversee policies such as transport, social care and housing as well as police budgets.
The devolution deal includes the measure to merge the PCC's role with that of the elected mayor.
Mr Lloyd said, if elected, he would "only take one salary whilst combining the posts".
The mayor will lead GMCA, chair its meetings and allocate responsibilities to its cabinet, which is made up of the leaders of each of the region's local authorities.
Previously a Labour MP, Mr Lloyd was first elected in the Stretford and Urmston constituency in 1983.
He gave up his role as MP for Manchester Central to stand for Police and Crime Commissioner in 2012.
Lord Smith, also a Labour politician, has been leader of Wigan Council since 1991.
Eight years later, he was created a life peer with the title Lord Smith of Leigh.
Greater Manchester
Metropolitan area formed in 1974
Made up of 10 councils: Manchester, Salford, Bolton, Bury, Oldham, Rochdale, Stockport, Tameside, Trafford, Wigan
Population is about 2.7 million
Covers an area of about 500 sq miles
Has an economy bigger than Wales or Northern Ireland
Designated a City Region in 2011 when the Greater Manchester Combined Authority was established