Hockey stick killer Oral David Bryan jailed for life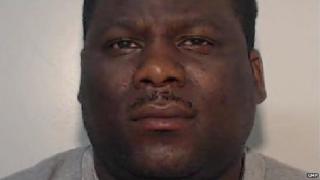 A man who killed his ex-partner by hitting her with a hockey stick in front of their children has been sentenced to life in prison.
Oral David Bryan, 44, struck Nicola McKenzie on the head outside his home in Cadogan Street, Manchester last September, police said.
It followed "a heated argument" between Ms McKenzie and another woman.
Bryan was told he will serve a minimum of 20 years after being found guilty of her murder at Manchester Crown Court.
Greater Manchester Police said he retrieved a hockey stick from his house before approaching the pair as the row unfolded.
'Axe-like motion'
He raised the stick with both hands high in the air and swung it down "in an axe-like motion", striking the top of the victim's head, police said.
Bryan attempted to lift Ms McKenzie off the ground before letting her drop, which resulted in her banging her head again.
He then fled but was arrested nearby a short time later.
The former couple's two children saw the whole incident, as did Bryan's other two children and the child of another ex-partner.
Ms McKenzie was taken to hospital with massive head injuries and died two days later.
Senior investigating officer Duncan Thorpe said: "This was a tragic incident where the life of a woman was sadly cut short in brutal fashion by a man she was once close to.
"I know the sentence won't bring her back or even begin to make up for their loss but I hope it will offer Nicola's family some closure and my thoughts are with them."