Gilad Atzmon gig cancellation criticised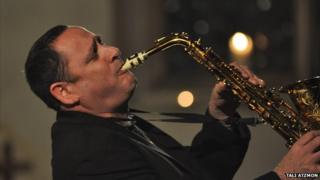 A venue that cancelled a gig by controversial jazz saxophonist Gilad Atzmon has been criticised for giving in to bullying.
Manchester's Royal Northern College of Music denied scrapping the concert by the Israeli-born star was "political", and said it was for safety reasons.
A petition by the North West Friends of Israel called for the gig to be pulled, claiming Atzmon is anti-Semitic.
He said he was targeted for opposing Holocaust denial legislation in Israel.
'Allegations of racism'
The petition said: "By allowing this performance the RNCM will be party to fostering anti-Semitism and the possibility of attacks on Jewish people and institutions in Manchester."
It added: "Gilad Atzmon's criticisms of Zionism, Jewish identity and Judaism generally, as well as his controversial views on Holocaust denial and Jewish history, have led to allegations of anti-Semitism and racism."
The petition questioned what "signal" it would send to hold the concert - which was due to have been staged on Thursday - on the same evening of the launch in Manchester by Chief Constable Sir Peter Fahy of a campaign called We Stand Together, which aims to promote tolerance and unity among different faiths and cultures.
A counter-petition by Atzmon's supporters called on the venue to reschedule the concert and not to succumb to "pressure and bullying from external forces".
'Pile of lies'
Atzmon, who is also a political writer and novelist, said in a statement on his website that the Royal Northern College of Music (RNCM) felt "unable to guarantee my safety".
"As usual, [the North West Friends of Israel] have produced a pile of lies about my work and my writing," said Atzmon, who lost relatives in the Holocaust.
"They suggested that my concerts were 'fostering anti-Semitism' which is obviously a complete lie, in fact not once has anyone logged a complaint about my concerts or my talks."
The saxophonist said he was "critical of Jewish identity politics and the exact same Jewish political lobbying which the North West Friends Of Israel has exercised in Manchester".
Atzmon said he had referred the issue to his legal team.
An RNCM statement said: "Over the past few days the RNCM has received a significant amount of negative correspondence relating to the booking of Gilad Atzmon and the Orient House Ensemble on Thursday 5 March.
"After careful consideration, and to ensure the safety of all involved, the RNCM decided to withdraw the concert. This decision was taken and actioned prior to the launch of an associated petition and in no way reflects any political view of the college."
Dubbed the "hardest working man in British jazz", Atzmon has recorded and performed with such artists as Sir Paul McCartney, Sinead O'Connor, Ian Dury and Robbie Williams.