FC United of Manchester raises £2m from community shares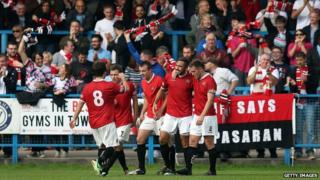 A Manchester football club has raised £2m from a community share issue to help fund their ground building.
FC United of Manchester hoped to raise £750,000 when they were first issued shares in 2010, but have revised the total twice due to their popularity.
General manager Andy Walsh said it was "one of the largest amounts ever raised by football supporters".
The Northern Premier League club's £6.3m stadium and community facility in Moston is due to be completed by March.
A spokesman said the funding had come from 1,522 people with most investing £500 or less which had allowed the club to "unlock" a further £3m of grant funding.
He added: "Some people have invested more than £500 although we are not talking anyone with megabucks."
Board member Adam Brown said, although the share scheme was now closed, "we are still looking to raise funds to bridge gaps and improve the new ground".
Co-operatives UK, a trade association for co-operatives, has praised the club for its use of the community shares.
Mr Brown said he considered them "a preferable way of raising finance to borrowing from banks and more sustainable than relying on wealthy individuals".
"Our example has already inspired other clubs such as Wrexham and Portsmouth, showing that there is a better way for football."
FC United were formed in 2005 by Manchester United fans in protest at US businessman Malcolm Glazer's takeover.
After three promotions in ten years, they are currently battling for top spot in the Northern Premier League, the seventh tier of English football.
Many fans at Old Trafford were unhappy with the move as it took the club heavily into debt.
The team's new ground in Moston, Broadhurst Park, was due to open in September, but has been delayed by issues with the construction work.