Boy and girl, 16, held in Greater Manchester terror raids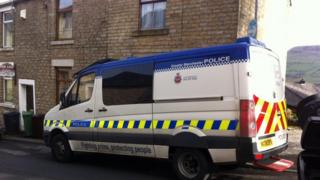 A 16-year-old boy and a 16-year-old girl have been arrested by counter-terrorism police in Greater Manchester.
The North West Counter Terrorism Unit said the pair were arrested on Monday in the Mossley area of Tameside.
Two addresses in the Hanover Street and Spring Mill Drive areas are being searched by police.
The BBC understands the arrested teenagers do not have any connection with Islamist extremism or have any international connections.
The investigation is believed to be focussing on purchases the pair were trying to make online.
The pair have been held on suspicion of being concerned in the commission, preparation or instigation of an act of terrorism.
'Determine the circumstances'
Greater Manchester Police said one line of inquiry was focused on internet activity between the two college students, who are said to know each other.
Police said the searches at the properties were expected to last some time.
Two police officers stood outside a new-build three-storey house in Spring Mill Drive - where the girl is believed to live.
The front door of the property was boarded up.
A couple and a teenage girl live at the address, according to neighbours.
An unnamed neighbour said: "They are just a normal family, very nice and pleasant."
The boy, who is understood to be from Hanover Street, lives with a middle-aged woman, neighbours said.
Ch Supt Caroline Ball said: "I know news of an arrest made under terrorism legislation in this community will cause a certain amount of anxiety and people will understandably have questions.
"What I want to stress very clearly is that this investigation is in no way linked to any sort of international terrorist plot nor have we recovered any evidence to suggest the community of Mossley is at risk."