Stone Roses' Ian Brown 'shown gay porn by Fred Talbot'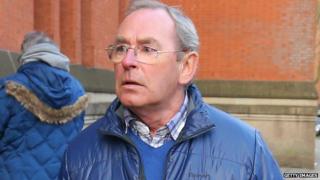 Stone Roses singer Ian Brown has told a court his former teacher Fred Talbot showed pupils what he later realised was "probably a gay porn film".
The star said the former TV weather presenter also suggested boys go home, try to masturbate and report back.
A Manchester court heard how he paid more attention to older-looking first years at Altrincham Grammar School.
Mr Talbot, 65, of Bowdon, Greater Manchester, denies 10 counts of historical indecent assault.
The allegations relate to five boys in the late 60s to the early 1980s. Mr Brown is not one of the complainants.
Manchester Minshull Street Crown Court heard Mr Talbot taught the singer biology from 1974 to 1979.
Mr Brown told the court he remembered "in particular" two or three lessons given by Mr Talbot when he was an 11-year-old boy.
He said the class went to the science block, but instead of the usual classroom went into another with a projector set up.
Mr Brown said: "A three minute film on a Super 8 projector of a guy walking into a room dressed in denims, sits on bed, takes trousers down and masturbates.
"It was only a few years later I realised it was probably a gay porn film. It wasn't a sex education film."
He added: "It was years later I realised it was wrong to show us that film."
'Private words'
The star told the court he remembered a lesson where Mr Talbot "asked the class if any of us had ever masturbated".
Neil Usher, prosecuting, asked if there was any response from the boys.
"Nervous giggles," Mr Brown said.
"He wanted to know who was successful in the masturbation. He asked boys to raise the hand."
Mr Brown said in further biology lessons, his teacher would approach the boys who had raised their hands and have "private words" with them.
The witness continued: "I can remember sitting there wondering, 'What is he saying to them?'
"They were all the same age but they were a foot bigger than us."
'Embarrassment'
Suzanne Goddard QC, defending, cross-examined the singer about biology classes and suggested part of Mr Talbot's responsibility as a teacher was sex education.
Mr Brown said: "I doubt that's on the curriculum."
Asked why he had not told his parents the singer said: "It was 1974. I was 11 and the teachers ruled with an iron rod. It would have been an embarrassment to tell my parents things like that."
The lawyer suggested that once the singer knew Mr Talbot was being investigated he may have looked back at the sex education classes in a different light.
Mr Brown responded: "Is that what you are suggesting? Suggest on."
Following his teaching career, Mr Talbot became a TV regular presenting the weather forecast on a floating map in Liverpool's Albert Dock for ITV's This Morning show.
The trial continues.