800-year-old contract to go on show in Wigan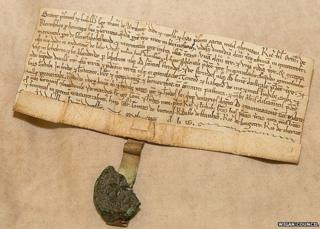 The oldest document in Wigan's public archives will go on show next year in the Museum of Wigan Life.
The 800-year-old contract, written in Latin on parchment, outlines a deal to rent land in Worthington near Standish.
Experts believe it dates from 1215, the year the Magna Carta was signed.
The deal is between wealthy land-owner Thomas de Worthington and Richard, son of Orm de Bleinschoc, who agreed to rent land in the Coppull area for an annual rent of five pence in silver.
The contract comes from a pre-industrial era when most of Wigan was farmland.
Alex Miller, Wigan Council's archive manager, said: "People were beginning to understand for the first time that having a written record of an event or agreement was of importance for proving ownership, settling disputes and ensuring your rights and those of your heirs could be upheld."
The Magna Carta, issued by King John of England in 1215, established for the first time the principle that everybody, including the king, was subject to the law.
Plans to display the contract will be announced in the new year.