World War One: National Football Museum exhibition marks centenary of truce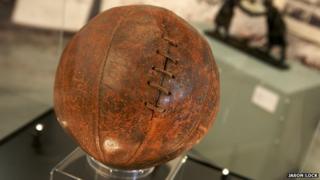 Manchester's National Football Museum is marking the centenary of World War One with a new exhibition looking at the role of football during the war.
The Greater Game - Football & The First World War details Christmas truce matches and commemorates the sacrifices made by players during the conflict.
It features a ball booted "over the top" by Captain Wilfred P. Nevill on the Battle of the Somme's first day.
The free exhibition opens on Friday at the museum in Cathedral Gardens.
A diary kept by Lt Charles B. Brockbank of the 6th Battalion, Cheshire Regiment is also on show. In it, he mentions a football match taking place on Christmas Day 1914 with a small rubber ball.
Other artefacts include Wilfred Bartrop's 1912 FA Cup winner's medal.
The former Barnsley player was the final footballer to lose his life in the conflict, killed in action four days before the end of the war in 1918.
Modern conflicts are marked by photographer Sean Sutton, in association with the Mines Advisory Group, showing men, women and children affected by violence and conflict around the world.
Commissions by artist Malik Thomas show a series of artworks inspired by individual stories and artefacts in the exhibition.
The museum's director, Kevin Moore, said: "The love of football and the spirit of the game continues and we hope that everyone will come to learn more about this fascinating period of footballing history."
---
A Christmas kick-about?
Along parts of the Western Front, some men emerged from their trenches into No Man's Land on 25 December 1914.
Where truces did happen, enemy soldiers met, spent Christmas together and even exchanged gifts.
Although first-hand testimonies suggest there was no single organised football match between German and British sides, small-scale kickabouts were held between soldiers.
There was no official truce, however, and along other parts of the frontline bloody battles continued to take place over the Christmas period.
---