Anthony Crolla: 'Valiant' boxer injured after chasing burglars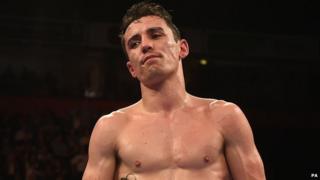 Police have praised a boxing world title contender who suffered a fractured skull tackling two men who tried to burgle his neighbour's home.
Anthony Crolla, 28, spotted them trying to flee his neighbour's back garden in Chadderton, Greater Manchester.
Crolla - who has now been ruled out of a WBA world lightweight title fight in January - was hit on the head with a concrete slab by one of the burglars.
The boxer, who also broke his ankle, is "stable" in Royal Oldham Hospital.
The boxer's neighbour Chris Townsend said: "It is really difficult, a few things from my house can be replaced but missing a title fight could affect his career - it is really gutting."
He said the boxer's action were typical of the man adding: "When we spoke he just said to me, 'we're neighbours we look out for each other.'"
Greater Manchester Police said he spotted the men climbing over the fence from his neighbour's home in Halsey Close and chased them through Thorley Close, onto Butterworth Lane and Crescent Road.
'Admirable and valiant'
A spokesman said the boxer caught one but was hit on the head with a "heavy object" by the other. The fighter's manager said it was a concrete slab.
The police spokesman said Crolla had done "an admirable and valiant thing".
Det Sgt Richard Arthern said: "The victim was outraged that these two men had broken into his neighbour's home and gave chase.
"When he caught up with one of them, he was hit with such force, he received a fractured skull. He staggered backwards and fell to the ground leaving him with a broken ankle and in a lot of pain."
Crolla had been set for the biggest bout of his eight-year professional career in Manchester on 23 January against WBA champion Richard Abril, 32, from Cuba.
Promoter Eddie Hearn said: "Unfortunately the 23 January fight is off but our concerns right now are with Ant and his family.
"I'm devastated for him. He has been training for six weeks for this and has a shot at the world title in his home town.
"You ask anyone in boxing and I doubt you will find a nicer kid than Ant. I'm absolutely gutted for him.
"I have spoken to Richard Abril's team and we are trying to reschedule the fight."