Jordan Begley death: Media can name Taser officers after 2 February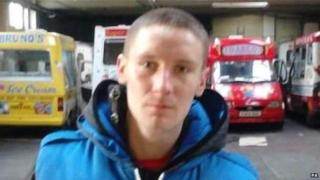 Five police officers who wanted anonymity at an inquest into a man shot with a Taser will be named unless they win an appeal, a coroner has ruled.
Jordan Lee Begley, 23, died after being hit with the electric stun gun by a Greater Manchester Police (GMP) officer at his home last year.
Four officers involved in restraining him are currently identified as D14, J1, H4 and H1, due to a court order.
The officer who pulled the Taser trigger is only known as E21.
The interim anonymity order will remain in place until 2 February, meaning the officers' lawyers still have time to appeal to the High Court.
In a written ruling, Nigel Meadows, coroner for Manchester, said the officers should give evidence in open court and be named.
At last week's hearing, Mr Meadows heard claims that a £50,000 bounty from crime gangs was the prize for shooting dead an armed police officer.
The claim was made by Supt Leor Giladi, from GMP, in support of the five officers who say they fear retribution from organised crime groups if they are named.
But lawyers for the Press Association, the Guardian, Associated Newspapers and ITV, said not naming the men would be "a major derogation from the open justice principle" - and that the public had a right to know who, and what, was going on in public courts.
The inquest is expected to take place next year.