New day centre after fire at Withington Minehead Resource Centre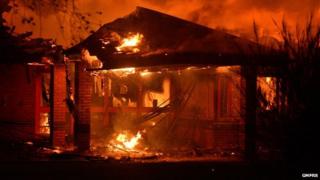 A new venue has been found for 65 vulnerable and elderly adults whose day centre was destroyed in a fire.
No-one was injured in the blaze, which broke out at Minehead Resource Centre in Withington on Wednesday evening.
An empty former special school on Aked Close in Ardwick will be ready for the group to use following some building work, Manchester City Council said.
Councillor Paul Andrews said offers of help from across Manchester showed "kindness in the face of adversity".
Police and the fire service are still investigating the fire.