Council cuts: How are cutbacks impacting Greater Manchester?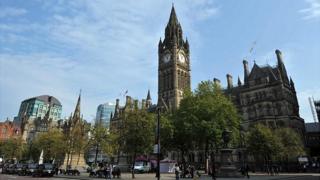 Greater Manchester's ten local authorities are already preparing for budget cuts of more than a quarter of a billion pounds next year.
The conurbation's expected total figure of £285m comes on top of the £1.2bn of cuts since the government's austerity measures were introduced in 2010.
During that time, almost 10,000 council jobs have been lost and councils are now running some of the services they provide with a third less money than they had in 2010.
Manchester has the biggest budget so it's been the worst hit by austerity in Greater Manchester. The city council must save £59m next year and intends to cut a further 600 jobs.
It is planning extensive cuts to mental health and youth services, with many school crossing patrols, free swimming and all grants to community groups in line to be scrapped.
It is expected it must then cut another £31m in 2016-17.
---
Analysis: Arif Ansari, BBC North West political editor
Local government in the North West has been hit harder by spending cuts than any other region in England.
Ministers are trying to reduce the deficit and that means targeting the bigger budgets.
Larger city councils get the most cash to deal with the most pressing social problems.
Even if the local government budget had been frozen, council leaders would have been making savings due to rising costs, particularly adult social care. But, in fact, local government spending has been reduced more than any other department.
Labour accuses the government of punishing Northern councils at the expense of more affluent ones in the South. The government points out that they still get far more funding.
The best councils have responded by becoming much more collaborative, innovative and efficient.
But undoubtedly some are struggling to cope.
So far it's estimated North West councils have had their budgets reduced by a third since the general election. And there's no sign the pressure is about to ease.
---
Sir Richard Leese, Labour leader of Manchester City Council, said: "We have to set a balanced budget and the severity of the cuts to our central government funding - on top of previous cuts - make that deeply challenging, and not something that can be achieved painlessly."
The government points out that, even with the cuts, Manchester continues to receive some of the highest per-capita funding in the country, with the city spending £2,518 per household this year - more than £400 higher than the England average.
Elsewhere, it is expected Rochdale must save £37m, Salford £30m and Bolton £25m.
Labour's Jim MacMahon is leader of Oldham Council, which has to save £35m. He said: "We're past savings now, we're talking about cuts and we're having to go to the things that people can see, feel and rely on."
In Trafford, the Conservative-run council is proposing to shut youth clubs and children's centres as it attempts to save £24m.
There have been protests outside council meetings and at some primary schools which are set to lose their lollipop patrols.
Leader Sean Anstee said: "It is very, very difficult for local authorities at the moment but, if we continue to spend money we don't have, then what we're creating is a future economy and society for young people that isn't going to be productive."
Greater Manchester's 10 local authorities are gradually revealing the savings plans and consulting the public on their impact before setting their budgets in March.