Metrolink: Greater Manchester tram fares frozen until August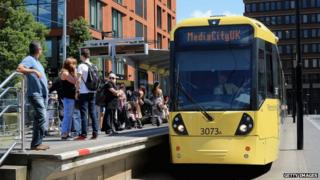 Tram fares across Greater Manchester have been frozen until August 2015.
And Metrolink tickets will not go up until 2016 for passengers who use the new 'Get Me There' smart ticket, which is set to be introduced next year.
As part of its annual fare review, Transport for Greater Manchester (TfGM) decided to forgo any price rises which are usually implemented in January.
TfGM chair Andrew Fender thanked customers "for their patience" during the current major expansion programme.
He added that transport bosses recognised the network's expansion, including a second line through Manchester city centre and the creation of new stops, "can cause short-term disruption" for some passengers.
"In response to this we have taken the decision to freeze fares for as long as possible, which means there will be no price rises on paper products until August next year and no price rises through to 2016 for those people who adopt 'Get Me There', once it becomes available," he said.
The new line through the city centre, known as the Second City Crossing, is due to be complete in 2017 and a new line for Trafford Park has been proposed.
There are about 30 million tram journeys in Greater Manchester each year, Metrolink said.