Millie Thompson's nursery death prompts first aid debate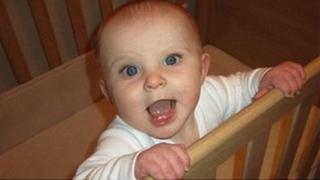 The death of a baby at a Greater Manchester nursery has prompted a Westminster debate on making first aid training compulsory for nursery staff.
Nine-month-old Millie Thompson, of Stockport, died after choking on her lunch at Ramillies Hall School and Nursery, Cheadle Hulme in October 2012.
Cheadle MP Mark Hunter led the debate to train all nursery staff in paediatric first aid.
It follows an e-petition set up by Millie's mother Joanne Thompson.
It received more than 100,000 signatures.
Ms Thompson told BBC Radio Manchester about the day her daughter died.
"We put Millie in nursery that morning - it was my third day back at work.
"By half elevenish we had a call saying Millie wasn't breathing properly. By the time I arrived at hospital within an hour I found out that Millie had passed away."
She said she was "determined" to make first-aid training compulsory.
She said: "If it doesn't get passed I will become an MP myself and get myself in that minister's position."
'Matter of national importance'
At the inquest into Millie's death, South Manchester coroner John Pollard returned a verdict of misadventure and said no-one was to blame.
He said paediatric first aid training for all nursery staff was "matter of national importance".
The jury at Oldham Magistrates' Court heard that Millie started coughing and crying in a high chair while being fed shepherd's pie from a supervisor whose basic first aid certificate had expired.
The supervisor shouted for help and passed Millie to a colleague who had paediatric first aid training and gave the baby back slaps.
Millie's condition fluctuated and then deteriorated as an ambulance arrived 10 minutes after staff dialled 999.
There were no signs of life as she was taken to Stepping Hill Hospital, Stockport where she was pronounced dead.
Mrs Thompson set up Millie's Trust with her husband Dan which aims to make first aid training available for everyone including parents.
She was named Lorraine Kelly's Inspirational Woman Of The Year in October.