'Serious blaze' destroys Withington Minehead Resource Centre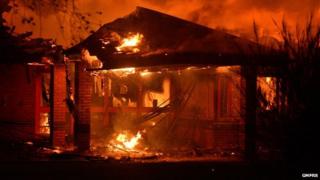 A "serious blaze" has destroyed most of a day care centre in Manchester.
About 30 firefighters were called to the Minehead Resource Centre on Dermot Murphy Close in Withington at about 21:00 GMT on Wednesday.
Greater Manchester Fire and Rescue Service said part of the building had been saved "to the rear", but the roof and some walls had collapsed.
A spokesman said they would be "working with social services to deal with the disruption" to the "well used" centre.
Group manager Damian O'Rourke said tackling the blaze had "not been helped by the high winds and bad weather".
"There were quite a lot of flames and quite a lot of smoke in the area," he said.
He said the first crews at the fire had had to ask for "additional appliances because the fire was developing quite well".
At its peak, four engines and an aerial platform were used to bring the blaze under control.
The service spokesman said the cause of the fire was unknown and a joint investigation with Greater Manchester Police was under way.
Manchester City Council said people who were due to use the centre would be sent to other facilities in the area.