The Travelling Band instruments worth £30k taken in van theft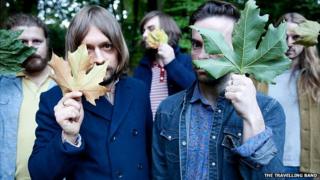 A Manchester band has appealed for the return of their instruments after a van containing about £30,000 worth of their equipment was stolen.
The Travelling Band's royal blue Ford Transit van was taken from a street in Levenshulme on Tuesday night.
It was last seen heading towards Bury in the early hours. Greater Manchester Police are investigating the theft.
Band member Adam Gorman said they had lost "all the gear we've amassed over the eight years of being a band".
The five piece were due to record in January "but I really don't know how now [as we're] not sure we can do anything", he said.
He added the band were "in shock" following the theft and were "trying to get the word out there in the hope there's a lead somewhere".
Among the items stolen were a Yamaha drum kit, Roland and Novation keyboards, Fender amplifiers, and three guitars - a black Fender Telecaster, an orange sunburst Washburn Augusta and a black Epiphone Les Paul.
Various guitar stands, cables, effects pedals and percussion instruments were also taken.
The band have had considerable success since they won Glastonbury Festival's New Talent competition in 2008.
They tour regularly and released their third album, The Big Defreeze, earlier this year.