Greater Manchester Police 'must improve child protection', watchdog says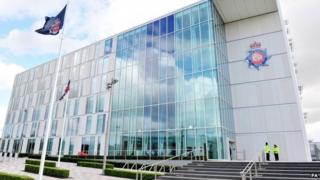 "Significant delays" in child protection investigations by Greater Manchester Police must improve "as a matter of urgency", a report said.
Her Majesty's Inspectorate of Constabulary (HMIC) looked at its child protection work, including sexual exploitation.
The watchdog said the force's hi-tech crime unit was taking too long to analyse computers and other media.
The force said it was working to address the concerns.
The HMIC report found significant delays in eight out of 36 cases. HM Inspector of Constabulary Mike Cunningham said he would like to see the delays reduced.
"There were instances of children being unnecessarily detained in custody overnight, which I would also like to see addressed."
GMP has 563 people working in its public protection division responsible for investigating child protection, domestic abuse, vulnerable adult abuse, registered sex offender management and the investigation of rapes and other sex offences.
'Room for improvement'
However, inspectors were pleased to find a strong commitment and visible leadership for child protection, and clear plans for continued improvement of child protection services.
They also praised "knowledgeable, skilled and dedicated staff" who had "good relationships with partner agencies and local safeguarding children boards".
Mr Cunningham continued: "I am pleased to see the clear commitment to protecting children shown by both the leaders and the dedicated staff within Greater Manchester Police.
---
Hi-tech delays
Officers told inspectors the force's hi-tech crime unit was taking too long to analyse computers and other media
Eight months was needed to prepare evidence from a computer in a case involving a school governor
It took more than seven months to analyse a suspect's phone said to have the recorded the rapes of two 14-year-old girls
One hundred and seventy-four cases had not been allocated to the high-tech crime for analysis at the time of the July inspection
---
"The focus now needs to be on driving consistently high standards across the whole force area."
Greater Manchester Police and Crime Commissioner Tony Lloyd said the report "highlights the good work and clear progress that has been made" but "there is always room for improvement".
HMIC inspected the force in July as part of a programme of child protection inspections of all police forces in England and Wales.
'Minimum delays'
They are intended to provide information for the police, the police and crime commissioner and the public on how well children are protected and their needs are met, and to secure improvements for the future.
Assistant Chief Constable Dawn Copley said the force was working hard to keep delays to a minimum and to avoid keeping children in custody wherever possible.
She added: "We are by no means at the end of our journey. The report makes recommendations and highlights some inconsistencies across the force when dealing with child sexual exploitation.
"We have put in place a comprehensive action plan, much of which has already been implemented to address these issues."
The watchdog said GMP must act on its recommendations within six weeks.