Manchester's song about its first balloon flight on display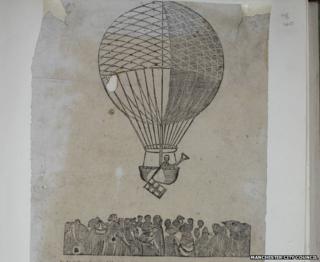 An illustrated transcript of a song written in the 18th Century to celebrate the first balloon flight from Manchester has gone on display.
Broadside marked James Sadler's ascent from a site in the city centre, now known as Balloon Street, before landing an hour later near Radcliffe.
The flight was watched by 5,000 people.
The song is part of an exhibition at Manchester Central Library which includes works from composers Handel and Vivaldi.
Councillor Rosa Battle, said the exhibition allows Manchester City Council to "demonstrate some of the wonderful array of documents and books we look after at Central Library".