Kinga Legg murder: Accused Ian Griffin 'regrets' millionaire death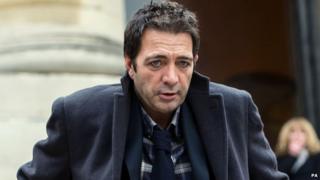 A businessman accused of killing his millionaire girlfriend in a Paris hotel suite has broken down in court while speaking of his regret over her death.
Ian Griffin, 45, was arrested in June 2009 after Kinga Legg was found dead in the bathtub of their £1,000-a-night room at the five-star Hotel Le Bristol.
Denying murder at his trial in the French capital, he told the jury: "I would give my life for hers."
He added he had had "every regret, every emotion" since Ms Legg's death.
Mr Griffin, who lived with Ms Legg in a mansion in Surrey, was the subject of a European arrest warrant after a maid discovered the 36-year-old's battered body.
The court has heard he left Paris in his Porsche 911, which was later recovered at an address in Warrington, Cheshire, where he grew up.
Griffin was arrested several days after the arrest warrant was issued, in woodland in nearby Macclesfield.
'Important to apologise'
Ms Legg was found in the blood-spattered hotel room with multiple injures and more than 100 marks on her body.
The Polish-born millionaire, who made her fortune running her family's supermarket produce supply business Vegex, died of internal bleeding.
Mr Griffin, who owned tanning salons and gadget shops, denies murder.
He told the court he blacked out after arguing with Ms Legg at a restaurant earlier in the evening when she told him: "You owe me sex."
He claimed he woke up the next day with no recollection of what had happened and found the room in a chaotic state before discovering Ms Legg's body.
During closing statements by both the prosecution and defence, the 45-year-old told the jury: "The most important thing is to apologise to her parents."
"To think I could do that to the girl I love, that's killing me. I have been through every regret, every emotion.
"I would give my life for hers tomorrow."
The case continues.