101 police non-emergency phone number down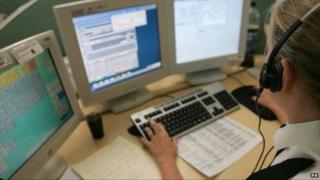 A number of police forces in England, Wales and Northern Ireland are reporting the 101 non-emergency phone number is down.
At least 23 forces - including the four Welsh forces and the Metropolitan Police - say there have been technical issues with the line since 09:00 GMT.
The Met Police said calls were not being received via 101 but the 999 emergency line was unaffected.
The 111 NHS non-emergency line had also earlier been down but is working again.
Separately, motoring organisation RAC said its breakdown number went down this morning after "Vodafone suffered a catastrophic failure to its telephone equipment" affecting "many large businesses" who use its services.
'Fault in Birmingham'
The 101 phone number is for local police in England, Wales, Scotland and Northern Ireland, for less urgent matters than a 999 call.
Forces are asking the public to visit local police force websites or call alternative non-emergency numbers if they are unable to get through on 101.
Humberside Police tweeted about the problem, saying: "We can confirm that 101 is not working nationally. Fault lies with some kit in Birmingham which is being worked on."
The following police forces are reporting problems:
Avon and Somerset Constabulary
Cheshire Constabulary
Cleveland Police
Devon & Cornwall Constabulary
Durham Constabulary
Dyfed-Powys Police
Gloucestershire Police
Gwent Police
Lincolnshire Police
Police Service of Northern Ireland
Hertfordshire Constabulary
Hampshire Constabulary
Metropolitan Police
Nottinghamshire Police
North Wales Police
North Yorkshire
Northumbria Police
South Wales Police
South Yorkshire
Suffolk Constabulary
Sussex Police
West Mercia Police
Wiltshire Police
A Met Police spokesman said they were experiencing "technical issues" with 101 and advised people to report non-urgent crime via their website.
"We are working with our service provider to rectify this issue as soon as possible," a spokesman said.
Police Scotland tweeted to say they were aware of an issue overnight with 101, but it has since been resolved.
The Home Office, which oversees the 101 line, has yet to issue a comment.
111 is a 24-hour medical advice line, also for non-emergency enquiries.
NHS Scotland tweeted: "111 phone service having technical problems across UK this morning. In Scotland NHS 24 available via 08454 242424 for those needing help."
West Midlands Ambulance Service said: "A national telecommunications fault has resulted in most calls to NHS 111 call centres in England, including that run by West Midlands Ambulance Service, not being connected.
"The telecoms provider is aware of the problem and is working to fix it."
Any callers in England unable to get through to the NHS 111 service are advised to dial 0300 0200 155.