Morrissey's idol: Celebrating Shelagh Delaney Day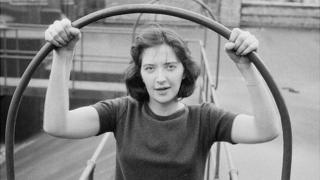 She dazzled Broadway with a play she wrote at the age of just 18 and inspired music by rock legend Morrissey. But many believe Shelagh Delaney has never been given the recognition she deserves - until now.
Tuesday marks the first ever Shelagh Delaney Day, held on what would have been the late Salford playwright's 76th birthday.
The occasion, held at Salford Arts Theatre, will feature a re-enactment of a scene from her most famous work, A Taste of Honey, a Shelagh Delaney-inspired art exhibition and a screening of the film Dance With A Stranger, for which she wrote the screenplay.
But who was Delaney? How did she achieve such success from a humble northern upbringing, and is her work still relevant today?
The daughter of a bus inspector, Delaney was born in 1938 in Broughton, Salford, and attended Broughton Secondary Modern before transferring to a grammar school.
She had failed her eleven plus exam four times, but told in a 1960 interview how she was later accepted into grammar school for being ambitious and "cheeky".
The aspiring writer was just 19 when A Taste of Honey, a play about the friendship between a young pregnant woman and a gay artist, premiered in 1958.
A success in both London and New York, it was made into a Bafta-winning film in 1961, starring Rita Tushingham. Delaney had written the script in under two weeks.
The play was considered one of the era's "kitchen sink" dramas, portraying working class life in Salford where Delaney grew up - and was an instant hit.
Speaking to the NME in 1986, Morrissey said: "I've never made any secret of the fact that at least 50 per cent of my reason for writing can be blamed on Shelagh Delaney."
TV scriptwriter Tony Warren was also influenced by Delaney's work, and drew on its themes in his best-known creation, Coronation Street.
The famous soap opera was first screened two years after a Taste of Honey hit the stage.
---
I Don't Owe You Anything
Morrissey has used A Taste Of Honey as lyrical inspiration both with The Smiths and as a solo artist. The play inspired the title of I Don't Owe You Anything and lines including:
And I'll probably never see you again - Hand In Glove
I dreamt about you last night/and I fell out of bed twice and You're the bees knees/but so am I - Reel Around The Fountain
The dream's gone/but the baby's real enough - This Night Has Opened My Eyes
Six months is a long time - Shoplifters Of The World Unite
It's my life/to ruin/my own way - Alma Matters
---
Dr Christopher "CP" Lee, a cultural historian and writer who works for the University of Salford, said the success of Delaney's work is rooted in its controversy.
"She was an absolute trailblazer. To emerge as such a successful teenage writer was quite remarkable.
"You have to remember how, at the time, scripts were heavily censored. You couldn't swear, you couldn't portray homosexuality, or many other things we take for granted today.
"A Taste of Honey was a story about a pregnant schoolgirl in a relationship with a black sailor. It was about real life - that was what was so special."
Dr Lee said Delaney managed to evade the censors through "implying rather than stating" - much to the chagrin of the other predominantly middle class playwrights of the time.
"The others writing anything successful at the time were college graduates and Oxbridge types. And here was this schoolgirl living near the docks and beating them at their own game."
However, Dr Lee says Delaney's rise to fame was hindered by the conservative attitudes of the time, and largely because of her gender.
"There are some stories about how she once tried to open an art centre, and she was bamboozled at and sidelined on every level - simply because she was a woman and should have been at home having babies.
"But she should be up there with the greats. She was really one of the most influential playwrights of the century and her influence is still being felt today."
For fans of The Smiths, Delaney needs no introduction. She was a huge influence on lead singer Morrissey, and her image even features on the cover of the band's 1987 compilation album, Louder Than Bombs.
Manchester music historian Paul Wild says Morrissey had huge respect for the kitchen sink dramas of the time, and idolised the stars associated with them.
"Morrissey was born in Stretford and they were a sort of backdrop to his life in many ways," he said.
"The likes of Delaney and Rita Tushingham, they seem to feature as heroines of his. It was a magical time and he just seems to have got drawn into it.
Shelagh Delaney's life and times
Born in 1938 in Broughton, Salford, and died in 2011
Wrote A Taste of Honey in 10 days at the age of 18
The play premiered in 1958 and hit the West End a year later
Made into a film in 1961, starring Rita Tushingham
Delaney's image featured on The Smiths compilation Louder than Bombs
Elected a fellow of the Royal Society of Literature in 1985
"He seemed to relate to the sort of 'black and whiteness' of it all - it became part of his style. When I think of Morrissey, I think of black and white. His life almost seems to lack colour.
"Even the name The Smiths is bland and everyday. He celebrated the bleak."
As part of the celebrations for Shelagh Delaney Day, Salford MP Hazel Blears will introduce a special screening of A Taste of Honey.
The film is particularly relevant for the former cabinet minister, who appeared in the production as a five-year-old alongside her brother, Stephen.
Mrs Blears, who played the part of a street urchin extra, said: "They were filming at the bottom of my street and the director asked if we could be there, bouncing some balls in the street and things.
"My mum dressed us in our best clothes, but the director said they were too nice. So we had to put more normal clothes on.
"The film dealt with some really controversial and difficult issues, such as mixed-race marriage and poverty - things we are still grappling with today.
"And to achieve all this at such a young age was remarkable. She remains contemporary. I entirely agree she hasn't had the recognition she deserves."