Rochdale man jailed for nine-hour torture of girlfriend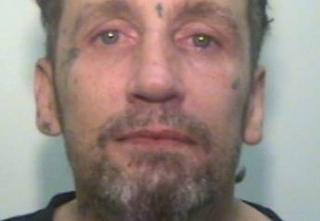 A man who imprisoned and tortured his girlfriend for nine hours, attacking her with a baseball bat and boiling water, has been jailed for 11 years.
Barry Edwards, 44, of Whitehall Street, Rochdale admitted grievous bodily harm, false imprisonment and death threats in the attack in May 2013.
Police said it was "one of the most horrendous incidents of domestic abuse" they had ever dealt with.
Edwards was jailed at Manchester Crown Court Minshull Street on Thursday.
'Truly horrific'
The court heard Edwards punched the woman in the face, hit her repeatedly with a baseball bat, burned her hair and slashed her face and body with a razor blade.
He also poured boiling water on her and kicked her down stairs.
During her nine-hour ordeal, Edwards also made her face the bedroom wall with a piece of card between the wall and her nose, said police.
He said if the card dropped to the floor or her hands dropped below her head, he would hit her, which happened when she tired and lowered her hands.
Police described the 25-year-old victim's ordeal as "truly horrific" and believe the person who reported hearing her shouts saved her life.
She suffered a fractured rib, fractured finger, punctured lung as well as lacerations to her face and body and severely bruised legs.
Det Con Russ Clarke from Greater Manchester Police said: "This is one of the most horrendous incidents of domestic abuse I have ever dealt with, leaving the 25-year-old woman with terrible lifelong injuries."