Warehouse Project death: Nick Bonnie died from ecstasy overdose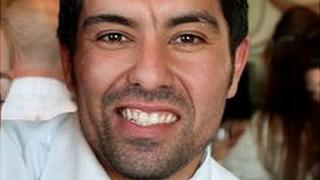 A coroner has described illegal drug manufacturers as "a heinous blot on our civilisation" at the inquest into the death of a clubber in Manchester.
Nick Bonnie, of Stroud, collapsed at The Warehouse Project in Trafford last September after travelling there from Gloucestershire with friends.
Blood tests revealed cocaine and high levels of MDMA, the inquest heard.
Coroner John Pollard recorded a verdict of death from the non-dependent use of drugs.
Thirty-year-old Mr Bonnie was an occasional drug user and may not have realised how much of the powdered form of the drug he had taken, the inquest in Stockport was told.
'Cooked up story'
Mr Pollard said illegal drug manufacturers were "morally bankrupt".
Mr Bonnie, a Prince's Trust worker, had travelled to the nightclub with four friends.
The group brought drugs with them, taking them during the car journey, and also in the queue outside the nightclub.
They later lied to police, claiming they had bought the drugs at the Warehouse Project.
Mr Pollard described their deceit as a "cooked up story" which hindered the police investigation.
James Churchill, 31, Dean Neale, 30, Paul Tabb, 31, and Simon Lloyd-Jones, 29, all from Stroud, were later handed suspended jail sentences after admitting perverting the course of justice.
Lloyd-Jones, the only member of the group not taking drugs, told the inquest that lying to the police was "the worst mistake I've ever made".