Iraq war veteran jailed for rape of girl, 6, in Bolton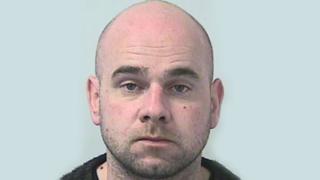 An Iraq War veteran has been jailed for 11 years for raping a girl aged six.
Bolton Crown Court heard it happened between May 2012 and May 2013, but emerged in August last year after the victim told her friend.
Garry Reader, 31, from Bolton, was a witness in the inquiry into the death of Iraqi hotel worker Baha Mousa in British army custody in Basra in 2003.
Det Con Kirsty Kaye, from Greater Manchester Police, said the girl was too young to "comprehend the atrocity".
'Guilt-tripping'
Police said Reader, of Little Lever, told his victim: "Don't tell anyone, someone could be really mad at me and I could go to prison."
He "used that classic tool of abusers and exploiters, fear, guilt-tripping the victim into keeping quiet", said Det Con Kaye.
Reader, who was sentenced on Wednesday after being convicted last month, served as a private with the Queen's Lancashire Regiment during the Iraq War but left the Army in 2007.
In 2009, he told the public inquiry into Mr Mousa's death he saw two of his colleagues kicking and hitting the father-of-two, who was arrested at a Basra hotel in 2003 and taken into UK military custody.
Reader said he had tried to resuscitate Mr Mousa, who died with 93 injuries.
He told the inquiry he had not told the truth previously because he had been afraid speaking out would damage his career.
The inquiry concluded the soldiers involved were guilty of a "very serious breach of discipline".
Speaking to the BBC in 2011 about Mr Mousa's death, Reader said: "I was 19-year-old private, I didn't really have any power in that situation."
"My personal views are everybody that was there that day initially has their own responsibility for his death... whether you hit him or you didn't hit him, you still have your own responsibility for his death that day."