Bolton boss Neil Lennon visits job rival, aged nine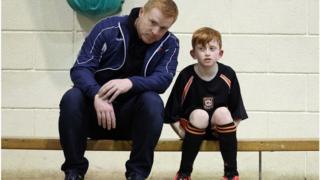 A nine-year-old boy who wrote a letter applying to manage Bolton Wanderers has had a surprise visit from the man who beat him to the job.
Thomas Fielding and his team-mates from Oxford Grove under-10s were visited by Wanderers boss Neil Lennon.
His letter said the players were "unfit and overweight" adding "I know I am young but I am cheap."
Former Northern Ireland international Lennon, who was appointed in October, signed autographs for the junior team.
"His letter was very similar to the one I sent in - it's just his had better handwriting!" said the former Celtic manager, who also joined in the training session.
Season ticket-holder Thomas Fielding wrote to club chairman Phil Gartside applying for the job when Dougie Freedman was sacked in October from the Championship club.
His letter said the team's players were "unfit and overweight", adding "we give the other team too much space to play".
He concluded his letter saying: "I know I am young but I am cheap and people tell me I read the game well."
Lennon presented and signed a Bolton Wanderers home shirt with 'OXFORD GROVE 10' printed on the back as a gift to Thomas and his team-mates.
"I was made to feel very welcome by all at Oxford Grove and it was a real pleasure to meet Thomas and his family," he said.
His mother Debra Nuttall said Thomas was "absolutely chuffed to bits" to meet the Wanderers manager.
"He's so excited now because he has been invited to watch Bolton train," she added.
"Thomas has been a Bolton fan since he was very young - it's all about Bolton, he's never been a glory hunter."