Lee Rigby memorial plan for Middleton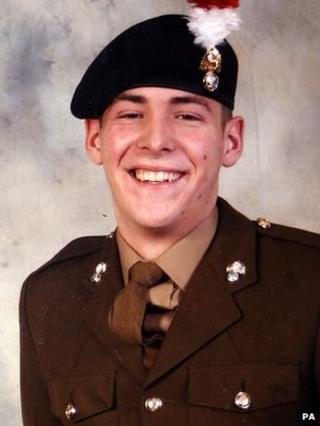 A permanent memorial to murdered soldier Lee Rigby will be erected in his home town.
The 25-year-old fusilier was killed outside Woolwich Barracks in London on 22 May 2013 by two Muslim converts.
He was a drummer with the 2nd Battalion the Royal Regiment of Fusiliers. A bronze drum memorial will be unveiled in Middleton in February 2015.
Rochdale council leader Richard Farnell said it would be a tribute "befitting his memory and bravery".
A plaque will be put alongside the memorial, together with a stone commemorating other local soldiers, at the town's memorial gardens.
Mr Farnell said the council had been "working carefully alongside Lee's family to design and plan this tribute, befitting his memory and bravery".
He said Fusilier Rigby's family had been "keen to ensure it is a permanent reminder of others who have served and lost their lives in conflict".
As a result, he said that "over time, other local soldiers will be commemorated as part of this memorial".
In October, Greenwich Council revealed a stone memorial would be placed in St George's Chapel garden, opposite Woolwich Barracks.
The council said the memorial would pay tribute to all fallen servicemen and women and would not bear Fusilier Rigby's name.