Ray Teret: Rapist followed Jimmy Savile 'like a shadow'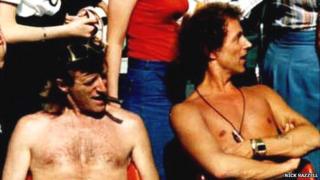 During his trial, former radio DJ Ray Teret repeatedly tried to distance himself from his friend and mentor Jimmy Savile.
But his crimes against young girls followed the same sinister pattern as those committed by the infamous paedophile broadcaster.
Teret learned the entertainment trade from Savile and worked for him as an apprentice DJ before becoming his driver and close associate.
Worshipped by crowds of young revellers, the pair were celebrities on the Manchester nightclub scene in the 1960s and 70s.
But behind the music and glamour, Teret and Savile quietly used their celebrity status to their advantage, embarking on a series of sex attacks against impressionable female fans as young as 12.
However, whereas Savile's crimes were only exposed after his death, Teret's victims were able to bring him to justice.
One woman, who first met Teret when she was 15 or 16, recalled him following Savile around "like a shadow", Manchester's Minshull Street Crown Court heard.
She said: "When the Savile case cropped up I really did think to myself 'why don't you get that Ray Teret up?' because he is just as bad as him."
Now Teret, 73, from Altrincham, has been found guilty of seven counts of rape and 11 indecent assaults between 1962 and 1979.
Among the charges, Teret was convicted of raping a 15-year-old girl while Savile was present.
The court heard the DJs worked closely together at Jimmy Savile's Disc Club in Manchester and shared trips to Blackpool and Jersey.
Teret himself admitted that Savile taught him "the nuts and bolts" of the DJ profession and that the Leeds-born broadcaster referred to him as "my accountant".
He also admitted sleeping in Savile's Mercedes motorhome, driving for him and carrying his luggage.
One witness told the court: "Teret told me that Savile was a friend. Teret told me that Savile liked little girls."
Yvonne Traynor, of the support group Rape Crisis, said Teret's conviction would help bring closure for the victims of both abusers.
"It would be very nice to have seen Savile in a courtroom, but of course that's not possible," she said.
"There's a huge difference for victims between when someone is alive to face the consequences of their actions and when they are not.
"But I think the victims of Jimmy Savile are going to be pleased that the Teret case has been investigated."
Ms Traynor said there was a good chance the former Radio Caroline DJ might never have appeared in court were it not for the Savile inquiry.
She said: "The Savile case has given people the courage to come forward because it has shown that just because abuse took place 30 or 40 years ago it doesn't mean people won't listen to them.
"We've had a 40% increase in people contacting our centre since."
Throughout his trial, Teret continually attempted to play down his association with Savile, and rejected a description of him as the broadcaster's "chauffeur".
And, at one stage during the trial, prosecutor Mr Evans told the jury that Teret and his co-accused should not be "contaminated because of the spectre of Savile.
"This is not guilt by association and that sort of notion plays no part in this trial," he said.
But Teret's crimes may forever be associated with those of his notorious friend.