Wilmslow finance boss jailed for stealing £200,000 from clients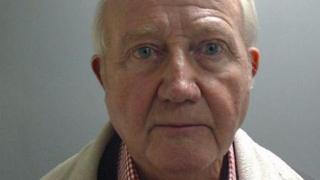 A financial adviser who stole almost £200,000 from his clients has been sentenced to two years in prison.
Geoffrey Fincher, 72, from Wilmslow, pleaded guilty at Chester Crown Court to 22 charges involving seven victims.
The offences were committed while he was director at two firms, including SK8 Financial Services.
DC Jackie Nolan from Cheshire Police said most of the victims had been reimbursed: "He abused their trust to gain access to their life savings."
Fincher admitted 22 charges involving fraud and preparing false documents relating to seven clients.
The court was told he had returned the funds to five of them, while his barrister claimed he never intended to keep the money and had used it as "an unofficial loan".
Judge Elgin Edwards said Fincher had spent years conning people, charging them a fee for the privilege.
'Suave adviser'
The daughter of one couple conned by Fincher said: "My mother is full of disbelief, aghast at his nerve, outraged and incensed as to how somebody could so easily dupe them − so terribly upset and so embarrassed as to her own stupidity, as she sees it.
"A very sad situation at her time in life when she had done her best to save for her children and her future."
The Financial Conduct Authority shut down SK8 in December.
Fincher, of Altrincham Road, Wilmslow, asked for nine charges to remain on file, police said.
Gary Simpson, from Mersey-Cheshire Crown Prosecution Service, said: "When [Fincher's] clients asked about their investments, he produced false documents to back up his criminality or offered to pay some of the money back.
"It would appear that earlier in his career Fincher was law abiding. We may never know what made him turn to crime and ruin his name but his reputation is now in shreds and he has only himself to blame."
Analysis: Dave Guest, North West Tonight
He was a man his clients found easy to trust. Most considered the suave financial adviser to be a friend. But there was more to Geoffrey Fincher than met the eye.
He would take money from clients, promising to invest it wisely and then simply invest it into his own bank account. Many of his elderly clients viewed him as a trusted friend - which made his betrayal all the more difficult to bear.
Gillian Handley's parents invested tens of thousands with him over a 30-year period. She described Fincher as: "Just the most awful type of human being you could meet... a parasite."