Stolen Oasis painting: Police return canvas to gallery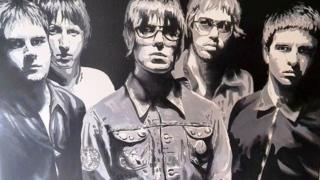 A stolen Oasis painting has been found by police and returned to the art gallery it was taken from.
Police said a thief broke into the MASA-UK on Bolton Street, Bury, Greater Manchester in the early hours of 27 October and took the black-and-white canvas painting.
The artwork was painted by fine artist Olga Tsarevska Loma from Russia and is inscribed with 'otz2013'.
Police said a 50-year-old man has been charged with burglary.