Manchester Malmaison hotel's images condemned as sexist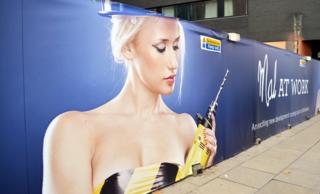 Images surrounding building work at a Manchester hotel are "demeaning" to women, a construction body has said.
Kate Lloyd, from the Construction Industry Training Board (CITB), condemned the Malmaison hoarding as "depressing and highly insulting".
It follows criticism from writer Jeanette Winterson, who compared pictures of a model holding tools to those of "soft-porn babes".
A Malmaison spokesman said it was "meant to be a bit of fun".
'Job for the boys'
However, Ms Lloyd said the images on the hoarding "only serve to set us back".
"The CITB has for years been challenging stereotypes around women in the industry and trying to encourage females of all ages to consider careers in the sector."
She added 12% of the construction workforce were women, of whom 1% worked in manual trades.
"We are missing out on a huge range of talent and skills that the industry would benefit from because construction is still largely seen as a 'job for the boys'," she added.
She appealed to people "who continuously use the old stereotypes to please listen to the industry and stop stereotyping us as a sexist industry".
Ms Winterson, also a professor of creative writing at Manchester University, recently wrote in the Guardian about her "outrage" at seeing the "Mal at Work" hoarding, when staying at the city centre hotel last week.
"Women at work seems to mean wearing a strapless dress and full makeup while staring longingly at a drill that presumably doubles as a vibrator," she wrote.
Referring to the hoarding's other image of a man in a hard hat, the Manchester-born author commented: "He's all muscle and sweat. He's a hunk, sure, but the visual message he offers is not confusing to men.
"He's about power and prowess, muscle and machismo. The hard-hat babes send out a message that aligns with male fantasy not female reality. And that's a problem."
She added she took a "quick straw poll" outside the hotel: "Some taxi drivers, parked opposite, liked the hoarding. A few people said they didn't notice it because the images are 'normal'. Some thought it was a joke."
The spokesman for the hotel chain said it was "meant to be a bit of fun with both men and women depicted to highlight our construction".
"No offence was meant and we apologise if it's been taken the wrong way," he said.
"It's made a lot of people smile and not too many frown."