Metrolink line to Manchester Airport opens a year early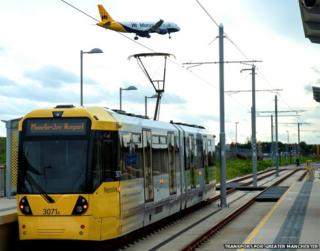 A new Metrolink tram line to Manchester Airport has opened more than a year ahead of schedule.
The nine-mile (14.5km) extension covers 15 new stops in south Manchester, including Wythenshawe.
Trams will run every 12 minutes from the airport to Cornbrook, where passengers can connect to other Metrolink services.
Cllr Andrew Fender, from Transport for Greater Manchester [TfGM], said the extension was a "game-changer".
"For people already living along the line, it will provide new ways of getting to work, leisure, health and education opportunities," he added.
Chancellor George Osborne, MP for the nearby Tatton constituency, travelled on the new extension to mark its opening.
He revealed Metrolink will come under the powers of Manchester's elected mayor, when the post is introduced in 2017.
"These are exactly the sort of transport improvements that will not only allow Manchester to prosper and thrive but also help turn our vision of a Northern Powerhouse economy into reality."
'Connecting people'
Journeys from the airport to Cornbrook will take around 45 minutes, and the number of trams between the latter and St Werburgh's Road in Chorlton has doubled, TfGM said.
Manchester Airport line: Tram stops
Barlow Moor Road
Sale Water Park
Northern Moor
Wythenshawe Park
Moor Road
Baguley
Roundthorn
Martinscroft
Benchill
Crossacres
Wythenshawe Town Centre
Robinswood Road
Peel Hall
Shadowmoss
Manchester Airport
Originally scheduled to open in 2016, the new line is one of the biggest live civil engineering projects in the country, TfGM said.
Work included structures such as a viaduct over the River Mersey, two bridges over the M60 and M56, and the Ringway Road dual carriageway and underpass at the airport.
A 300-space park-and-ride facility, free for Metrolink users, is also open at Sale Water Park.
Andrew Cowan, chief operating officer at Manchester Airports Group, said the tram extension would be "an important part in connecting people to the airport".
"The majority of the people will use it as a means to get to work, we already employ about 20,000 people on site... this will go right into the heart of those communities where our employees come from," he told BBC Radio Manchester.