Junior doctor Raza Laskar admits sexually abusing boys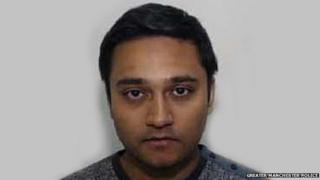 A junior doctor working in paediatrics has admitted sexually abusing boys as young as 12.
Dr Raza Laskar from Ashton-under-Lyne in Greater Manchester, also pleaded guilty to possessing images of abuse.
He denied six of the 37 charges he is accused of when he appeared at Manchester Minshull Street Crown Court.
Laskar, 32, was arrested as part of a police operation which targeted men who accessed abuse images online. There is no evidence his patients were abused.
Charges of grooming children online were ordered by the court to lie on file.
Indecent photographs
Det Insp Theresa Carter, said: "Like Jekyll and Hyde, he is vastly different in moral character depending on the situation, going from caring for and treating children to deliberately targeting, grooming and abusing them.
"I can stress that we found no evidence that he committed any offence during the course of his employment."
NHS England confirmed Laskar had previously worked in a number of hospitals across Greater Manchester.
In May, police executed a warrant at Laskar's home after 1,605 files believed to contain indecent photographs of children were uploaded from an IP address at his home.
The files had been uploaded between Christmas Day 2013 and January 2014.
Police found hundreds of chat logs and videos of Laskar engaging in sexual acts with a child who had been taken in a hotel room he had booked.
They also discovered he had more than 1.2 million images.
Some victims were based in the UK and others were from around the world, police said.
A NHS England spokesman said: 'The charges against Dr Laskar did not relate to his work. However, we would like to extend our sympathies to the victims and families involved in this case. "
They are urging anyone with any concerns to contact them.
Laskar will be sentenced on 9 January.