Attempted murder arrests after Rochdale police officer dragged by car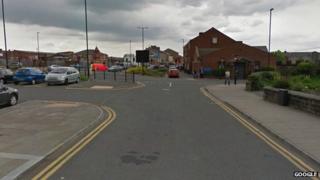 Three men have been arrested on suspicion of attempted murder after a police officer was dragged along a street by a car.
The female officer had stopped the car to question its occupants on Yorkshire Street, Rochdale, on Thursday night.
As she leaned in to speak to them, the driver set off. She clung to the car seat before she fell and was left lying on the road.
The men, one aged 19 and two aged 24 are currently in police custody.
The officer is being treated in hospital for serious bruising and shock.
Det Insp Charlotte Cadden from Greater Manchester Police said it was an "appalling incident".
"Thankfully she has not sustained any broken bones or any other serious injuries but this is still something that should not happen to somebody who was only trying to do their job," she added.
Police have asked for any witnesses to contact them.
The car is described as a dark coloured, five-door hatchback and the five men in the car are described as Asian.