Droylsden Pubwatch safety group wins national award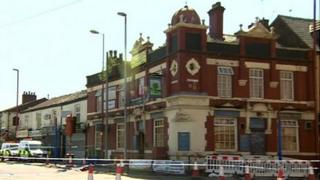 A pub safety scheme started in the wake of a shooting by police killer Dale Cregan has won a national award.
Droylsden's Pubwatch took the title of National Pubwatch 2014 at a ceremony in Westminster, London, on Thursday.
Organisers said the 30 pubs and restaurants in the Droylsden area of Greater Manchester banded together to issue known criminals with lifetime bans from all licensed premises.
The scheme was prompted by a shooting at the Cotton Tree Inn.
Cregan admitted murdering Mark Short, who died at the Market Street pub in May 2012.
He also admitted the murders of Greater Manchester Police PCs Fiona Bone and Nicola Hughes and Mark's father David Short.
Drinking establishments in Droylsden now have a "call around" policy which involves a pub warning others in the area of anti-social behaviour.
Alan Graham, chair of Droylsden Pubwatch, said it had a "100% membership" in the town and now hoped all 851 licensed premises in Tameside would sign up.
He said: "We have successfully worked together to establish a policy of barring these criminals from every pub in the town, creating a safe and enjoyable atmosphere for residents and landlords."
The award was started three years ago to acknowledge efforts to provide safe drinking environments for customers and staff.