Pregnant woman hurt by stone-smashed windscreen on M67 motorway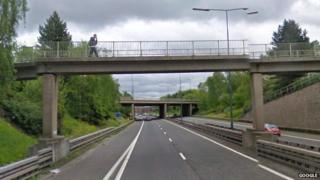 A heavily pregnant passenger was injured when a stone thrown from a Greater Manchester motorway bridge smashed through a car's windscreen.
Two stones shattered the windscreen at junction three of the M67 in Hyde at about 15:00 GMT on Tuesday, with one passing through and hitting the woman.
Police said the 35-year-old, who is about eight months pregnant, suffered cuts and bruises.
Det Sgt Steve Hall said it was a miracle she was not seriously injured.
The woman's unborn baby and the car's driver were not injured.
He said the stone-throwing "might have seemed like a good laugh at the time but this is no laughing matter".
"As a result of mindless stupidity, a woman was injured.
"The fact that shards of glass were flying everywhere means it is a miracle neither she or the driver or her unborn child were more severely injured."
He added it could have caused "an accident on a busy motorway so the consequences of the thoughtless actions could have been far-reaching".
Police have asked anyone with information about what happened to get in touch.