Alan Henning: Hundreds write tributes to murdered aid volunteer in condolence book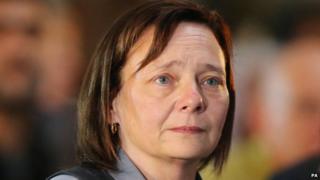 Hundreds of people have contributed to a book of condolence which will now be given to the widow of murdered Salford aid volunteer Alan Henning.
Bells rang out for an hour at Eccles Parish Church on Sunday to mark the last day on which it could be signed.
A video was released earlier this month showing Mr Henning's murder by Islamic State (IS) militants in Syria.
The 47-year-old taxi driver was abducted by IS when he was on a humanitarian aid convoy last December.
The Rector of Eccles, Fr Cyprian Yobera, said the book will be sent to Barbara Henning and her family during the next few days.
The book of condolence was opened in the parish church on 4 October.
An appeal fund set up to help his family has raised nearly £13,000.