Injured man, 60, rescued from river in Ashton-under-Lyne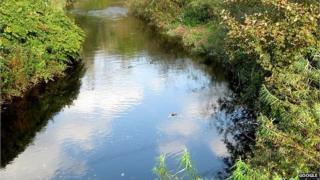 A 60-year-old man has been rescued from a river after he fell in and became stranded.
Fire crews, police and paramedics from Greater Manchester were called to Portland Basin near Margaret Street, Ashton-under-Lyne, at about 09:45 GMT.
The man, who was suffering an ankle injury, was brought to shore using a rescue boat, ropes and a spine board.
Firefighter and incident manager Mick Rothwell said: "It was difficult because the terrain is very steep."
He continued: "It's full of trees so we had to clear a path to gain access. Crews worked really well to quickly work out a safe plan to rescue the man."