Robert Waddington abuse: Bishop of Manchester praises 'courageous' victims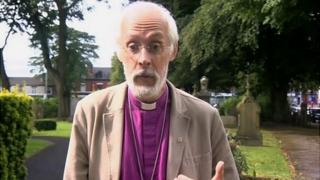 The Bishop of Manchester has praised the sexual abuse victims of a former cathedral dean for coming forward and "making it just a little easier for the next person to speak".
Right Reverend David Walker was responding to a report into how abuse allegations against the Very Rev Robert Waddington were handled.
At least two men made claims of abuse in 1999 and at some time in 2003-04.
Bishop Walker said he wanted to thank them for their "courage".
Last week the Archbishop of York Dr John Sentamu apologised to those who suffered at the hands of the late Dean Waddington, who died in 2007.
His predecessor was criticised for not acting on allegations in the report, by Judge Sally Cahill, which found "systemic failures" within the Church of England.
The then Archbishop of York Lord Hope of Thorne and others were criticised for not acting at the time the allegations were made - and therefore putting other children at risk.
In a statement, Bishop Walker said: "My heart goes out to those whose lives have been irreparably damaged by what Robert Waddington did to them. When I read of the ongoing effects of his abuse, decades after it took place, it makes my blood run cold.
"I want to thank Archbishop Sentamu for setting up this inquiry. I also want to thank Judge Sally Cahill and her colleagues for their hard work over these last months.
"But above all I want to say thank you to those who Robert Waddington abused, and who came forward.
"Thank you, because every time a survivor of abuse speaks out it makes it just a little easier for the next person to speak. Thank you for the courage you have found."